Hanyang Phonetics & Psycholinguistics Laboratory (HPPL)
(한양 음성과학-심리언어 실험실)
Director: Taehong Cho

#104, College of Humanities, Hanyang University, Seoul (133-791), Korea
Tel: +82-2-2220-2507
About HPPL
Hanyang Phonetics and Psycholinguistics Laboratory (HPPL, Room 104) was established in the College of Humanities at Hanyang University in 2005, as part of an effort to promote the Hanyang University Specializing Project for Performative Humanities.
The main research areas of HPPL are experimental phonetics, laboratory phonology, and psycholinguistics. Current research topics of HPPL include prosody-phonetics interface in speech production and comprehension, articulatory dynamics in spoken language, spoken word recognition, and sentence processing.
HPPL has a speech recording studio, a speech perception studio, and 11 PCs for data recording and analyses. In addition, HPPL is equipped with state-of-the-art facilities such as Electro-Magnetic Articulography (EMA) for articulatory movement tracking and Eye Link II for eye movement tracking.
The People
Prof. Taehong Cho (Dept. of English Lang. and Lit.) tcho@hanyang.ac.kr (Director)
Prof. Sahyang Kim (Hongik Univ.) (Affiliated member)
Dr. Jiyoun Choi (Post-doctoral researcher)
Prof. Minjung Son (Affiliated member)
Daejin Kim (Graduate Student)
Yuna Baek (Graduate Student)
Miroo Lee (Graduate student)
Jiyoung Jang (Graduate Student)
Dongjin Kim (Graduate Student)
Jiyoung Lee (Graduate Student)
Facilities
The Sound Recording Studio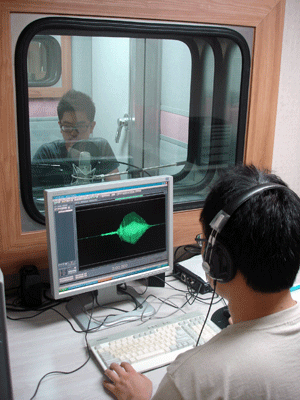 The sound recording studio has a professional sound-proof booth and a control room for acoustic data collection. The booth is equipped with a professional microphone (SHURE), which is connected to a portable high-definition stereo audio recorder (Tascam HD-P2) in the control room.
A PC in the control room is mainly used for data transfer and on-the-spot acoustic data analyses, for which softwares such as PRAAT and MultiSpeech are used.
---
Electromagnetic Articulography (EMA, Carsten AG200)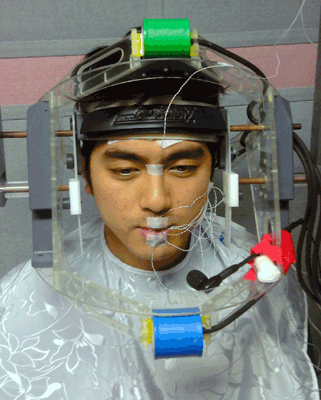 Electromagnetic Articulography (EMA, Carsten AG200) is used to investigate kinematic aspects of articulation.
EMA consists of a helmet with three transmitters, microscopic sensor coils (which are attached to a subject's articulators such as the tongue, the jaw, and the lips), and a control computer.
EMA system converts the voltage variation generated in the electromagnetic field between the transmitters and the sensor coils into measurable numeric values, with which the articulatory movement can be examined. The control computer displays the movement of the articulators in real time, which enables experimenters to measure and analyze vertical and horizontal articulatory movements in mid-sagittal dimension inside the vocal tract. In addition, the coordination between articulatory movements and their corresponding acoustic waves can be investigated with this system.
---
Light-weight Head-mounted Eye Tracker (EyeLink II, SR Research)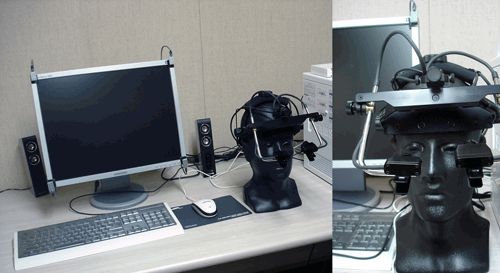 The eye tracker is a high-tech research device with great speed and precision for measuring eye positions and eye movements in various visual settings such as scene perception and reading. In the field of psycholinguistics, eye movements have been considered to provide significant implications on the language-based cognitive processes: how human-beings perceive and comprehend the sounds, meanings, and structures of language.
HPPL has an EyeLink II, which is a light-weight head-mounted system by SR Research Ltd. The EyeLink II system consists of three miniature cameras (two eye cameras and one scene camera) mounted on a headband. Eye cameras, which locate and track the center of the pupil and the corneal reflection, allow binocular eye tracking or easy selection of the subject's dominant eye without any mechanical reconfiguration. In addition, the scene camera permits a researcher to conduct experiments using real-world tangible objects.
---
Speech Perception Studio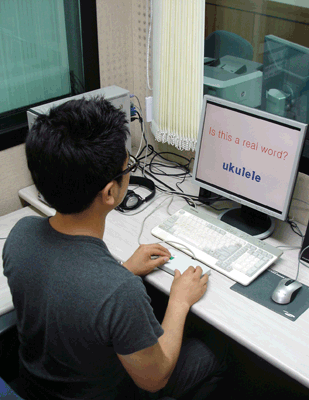 The perception studio has two perception rooms, each of which is equipped with a PC, a headphone, and a button box. Each PC is installed with softwares such as NESU (Nijmegen Experiment Setup), SuperLab, and E-prime that help researchers to perform speech perception experiments and analyze behavioral data.
Equipments for aerodynamic measures (oral-nasal pressure/flow) (To be available soon)

Electropalatography (measuring contact between the tongue and the palate)
In addition, other necessary hardwares and softwares are in house.